Our capabilities & services
Tree care and maintenance services
For over thirty years, we have undertaken arboricultural works for local authorities, schools, housing associations, private estates, construction companies and private residential clients. All work undertaken adheres to BS3998:2010 Tree Work – Recommendations. We are proud to be an Arboricultural Association Approved Contractor and hold ISO9001, ISO14001, and NHSS18 accreditations and the following health & safety certifications: CHAS, SMAS and Safecontractor. We have been accredited by Trustmark, which recognises our good trading practices, good customer service and technical competence.
Our arborists undertaking works are fully competent and have relevant NPTC qualifications. Work is covered by our £10m Public and Products Liability and £10m Employers Liability.
We provide a full scope of arboricultural services, including (but not limited to):
Pruning works
Various forms of pruning work are the most frequently practised tree work operations.
Crown Reduction – This involves an overall reduction in the crown's height and/or spread. The framework of the crown should remain intact, and the overall shape should remain similar.
Crown Thinning – Crown thinning is usually undertaken to allow more light to pass through the crown and to reduce wind sail. It does not alter the overall size or shape of the tree. It involves removing a proportion of small, live branches throughout the crown to achieve an even foliage density and a well-balanced structure.
Crown Lifting – This involves removing the lowest branches of the tree. It effectively increases light transmission t areas close to the tree or enables immediate access to it, for example, allowing vehicles to flow freely under it without damage. The lifted area should be restricted to less than 15% of the live crown height and leave the crown at least 2/3 of the tree's total height.
Other commonly undertaken activities
Deadwooding – This includes part or complete removal of non-living branches or stems. As dead wood provides valuable habitats for wildlife, shortening the dead branches or removing large deadwood should be considered, depending on the risk.
Bracing – This involves the installation of cables, ropes and/or belts (restraints and supports) to reduce the risk of damage due to failure.
Felling – When it is necessary to remove trees, this must be undertaken safely and by professionals.
Stump Grinding – When a tree has been felled, we can use a machine to grind the stump area to below ground level. This is commonly undertaken to minimise the trip hazard in places where it may pose a risk or allow replanting or construction work to occur. Our fleet of stump grinders enables us to tackle stumps of any size.
Planting & young tree maintenance
To ensure your new trees have the best start in life, they must be well cared for in their first years. From being planted correctly (in accordance with BS 8545:2014 – Trees – from nursery to independence in the landscape) to being regularly watered, supported and pruned where necessary. This is a service we undertake for many of our clients.
Land & site clearance
Our extensive plant and equipment mean we can clear sites ready for development quickly and efficiently. Our operatives are fully qualified and have the relevant CSCS cards. All method statements, risk assessments and certificates of competence will be submitted for inclusion in the site packs, ensuring we comply with all applicable legislation, including CDM. We are also Safecontractor, SMAS and CHAS Accredited.
We can remove large timbers, reducing noise and dust disturbance and vastly reducing time spent on site. During construction, if planning constraints require it, we can also provide site supervision and monitoring services to ensure the arboricultural method statement is being adhered to and fully compliant with BS 5837: Trees about Construction.
All green and woody waste from the site is recycled.
Consultancy services
Owning, controlling, and maintaining trees comes with its fair share of challenges and the many benefits they can provide. Whilst County Tree Surgeons Ltd was established as a tree surgery contracting company, we have been able to develop and expand to offer a trusted, impartial consultancy service. As well as providing any quotation needs for tree works, we can offer services that include:
General tree maintenance advice.
Whether you're looking for an appropriate species to plant or wish to seek advice regarding the proper pruning of your tree/s, we can provide objective specialist guidance to suit your requirements.
Advice and support regarding legislative protection involving trees.
We can assist with queries and disputes and provide up-to-date interpretation of current UK law to help you understand your tree responsibilities and rights.
Tree condition surveys and individual reports.
Landowners have a statutory duty under the Owner & Occupiers Liability Act 1984 to manage trees under their ownership and do all that is reasonably practical to safeguard against any health and safety risks to the public, properties, and of course themselves. This duty can be fulfilled by having a system to monitor and control the risks associated with trees. Our consultants' qualifications enable the provision of professional Tree Condition Surveys and Reports that can alleviate the burden of accountability from the tree owner.
Planning and development consultancy.
We can also offer specialist tree reports undertaken to British Standard BS5837 (Trees about design, demolition and construction). Local planning authorities use this standard to assess the impact on trees during the construction phase of development. They are a crucial requirement, especially when legislative protection may be afforded to any trees affected.
We have a team of two arboricultural consultants, both holding professional academic qualifications:
Glen Poole TechCert(ArborA)
Tim Rowell Dip Arb L4 (ABC) TechArborA
Both consultants have over 50 years of industry experience in practical and consulting arboriculture. They benefit from a generous CPD programme allowing them to provide up-to-date management recommendations about emerging scientific research and industry guidelines. Currently, both Glen and Tim have substantial experience in the following fields:
Providing a locum tree officer service to various local authorities, with duties including determining TPO applications and Conservation Area notifications, consultation comments for planning applications on behalf of the arboriculture and planning departments, tree condition surveys and production of management recommendations for individual trees, trees in parks other publicly accessible locations and woodlands.
Providing arboricultural consultancy services to local and district authorities, with duties including tree condition surveys and individual tree reports, advice on legislative protection and the production of management recommendations for individual trees, trees in parks, other publicly accessible locations and woodlands, and providing further advice and guidance to the approved works contractors when required.
Advanced internal decay detection assessments using invasive and non-invasive techniques, including Resistograph drills and acoustic tomography, interpreting the resulting data to inform appropriate management recommendations.
Building and maintaining relationships with clients, including national housebuilders, educational institutions, housing groups, and private clients.
All our quotations and initial site visits are provided free of charge. If you have concerns or want to seek advice regarding trees, please don't hesitate to get in touch, and we will be happy to chat and, if necessary, visit to provide further consultation.
Countryside services
Several teams are deployed to our Countryside services division, undertaking works for local authorities maintaining public rights of way, milling timber, crafting posts and rustic seating projects. Wherever possible, we use our wood to ensure we recycle wherever possible and achieve our environmental objectives.
If timber can't be reused, we process it for logs, which we barn store for firewood and woodchip for the energy industry. Please visit our shop or contact us for prices and availability.
Selected timber pieces are also available for sale; please call to arrange an appointment to view them.
We have been involved in creating woodland walks as a part of SANGS (suitable alternative green space) and various community projects where we have assisted in putting proposals together to secure funding.
Contact us for more details – photos of work undertaken:
Aspen fuels
At County Tree Surgeons Ltd, we use Aspen green fuels specially designed for small-capacity 2-stroke and 4-stroke engines. Aspen green petrol is made in Sweden and is the petrol predominantly used in Scandinavia in 2-stroke engines.
The Aspen fuels are made from the cleanest form of petrol available – alkylate petroleum. Aspen is sulphur free and contains less than 1% of the amount of benzene found in normal petrol. In addition, it is also free from aromatics and olefins. This is especially important in engines without any catalytic converters.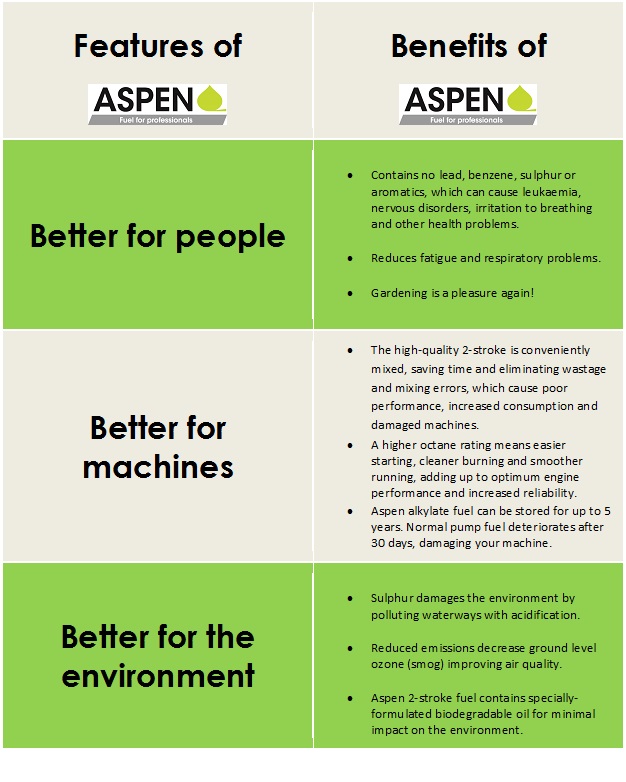 We are proud to be accredited to ISO14001:2015 and National Highway Sector Scheme 18 (scheme for Environment and Landscape including Ecology categories A and C-F) for our commitment to the sustainability of our practices. We are continually exploring ways in which we can reduce our impact on the environment.
We are an authorised dealer for Aspen fuels, so we can pass these benefits on to our clients. Visit our online shop to purchase or give us a call. Discounts are available for bulk purchases.