At County Tree Surgeons, we firmly believe that our teams are our biggest asset and are committed signatories of the Skills Pledge. We prefer to develop and promote from within; however, we often must add to our numbers. We regularly look for qualified climbing arborists and team leaders to join our growing company.
We offer excellent pay rates, a great working atmosphere, and a structured development programme in return for hard work and commitment. As soon as you start working with us, your skills will be assessed, a complete training gap analysis will be undertaken, and a development programme will be agreed upon. This will be reviewed formally annually, and requests for specific development areas will be considered and decided upon, depending on the needs of the business.
New contracts mean more opportunities! We are currently looking for qualified climbing arborists at various levels. Contact us NOW in confidence.
If you can bring a particular skill, and if it will benefit the business, as we are not owned by a large multinational, we can decide to diversify the skills of our team members.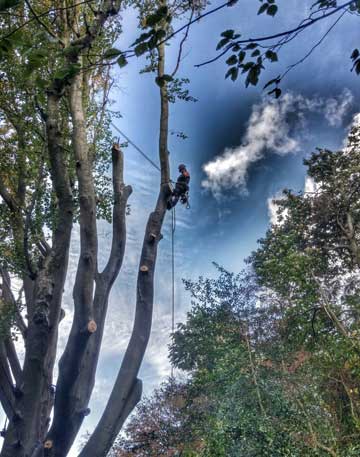 What's it like working for County Tree Surgeons?
We asked someone who did.
"I started my career at County Tree Surgeons at 18. I wanted to work for a large company to learn from different and experienced climbers and to see how a tree company was run. I worked for CTS for 3 years (2 stints). I started as an apprentice and finished as a foreman.
Learning to climb and cut from different climbers is, in my opinion, the best way to learn. You can use some of their advice and techniques to mould into your style of climbing. Thanks to CTS, I have completed many courses and tickets to improve my skills which I may not have had the chance to do anywhere else. This industry constantly evolves in tree management/ H&S/ machinery/ techniques… CTS has always kept up to date on these critical points, which in my opinion, makes them a premier in the UK tree industry.
As an AA-approved company, the standard of work is very high. They have had many different contracts, such as schools, highways, and local councils but probably best of all, highly prestigious clients. This included various jobs from planting to crane jobs, cobra bracing to reductions, and stump grinding to air spading. I learned nearly every aspect of tree work as an arborist at County. 8 years later, after working for a few big companies, CTS is the most professional, highly respected company I have worked for and my favourite. And the only reason I am not there now is that I live in Australia, and if I ever come back, I'll be back there in a heartbeat."
More about us
Contact us