Environmental, Sustainability & Responsibility
We are passionate about the environment and have staff trained in the detection of bats and other protected species' habitats, and have excellent experience working hand in hand with ecologists, especially on sensitive sites.
This will ensure the areas in which we work to retain their beauty. All sites are checked for the presence of Tree Preservation orders and other legislative constraints before work starts. If there are constraints on a site we are happy to make the relevant planning application on your behalf.
Wood & Plants Waste
We hold Environment Agency exemptions (T4, T6 and D7) for preparatory treatments, treatment of wood waste and waste plant matter and burning waste in the open. Our current waste management plan adheres strictly to the Waste England and Wales Regulations 2011 and as our EA Registration as an Upper Tier Carrier Dealer. It is as follows:
When working no debris will obstruct pathways, access or egress and none will be allowed to enter waterways.
Works will be undertaken in accordance with BS3998:2010 Recommendations for Tree Works ensuring no excessive or unnecessary waste is produced (WEW priority1 – prevention).
Sites will be left clear of debris and waste and returned to our base for processing apart from in the following exceptional circumstances:
Where waste must be processed on site to prevent the spread of disease, where waste must be transported to licensed burning sites to prevent the spread of disease or if the customer requests that debris is left on site for use e.g. woodchip for use in domestic gardens or as habitat piles.
Large timber waste will be removed using a timber crane so it can be transported whole to our base to be prepared for re-use (WEW priority2).
It is then milled and turned into posts and timber for local use (WEW priority3 – recycling).
Only if the aforementioned WEW priorities are not possible will the debris be turned into chip to be used as biomass and firewood (WEW priority 4 – other recovery e.g. energy recovery).
If any other waste is retrieved from site e.g. metal fencing, gates etc., they are sorted at our premises and taken to a licensed metal recycling facility for recycling. No arboricultural waste is disposed of in landfill (WEW priority5).
General waste from our teams such as food and drink waste is returned and deposited in recycling banks at our base, separated into dry mixed recycling and collected on a fortnightly basis by a licensed waste carrier to be recycled..
All food waste is put into a food digester at our base where the digestate fertilises the ground– again reducing landfill and enhancing our working environment. We are acutely aware of current biosecurity risks and carry stocks of disinfectant to ensure no inadvertent spread of disease whilst transporting.
Loads are covered and vehicles thoroughly cleansed before using again to reduce any risk of contamination.
Where trees and shrubs are requested to be removed by the client but can be salvaged, with the client's permission (and time and cost permitting) we will remove carefully and donate to community projects so they are not destroyed unnecessarily.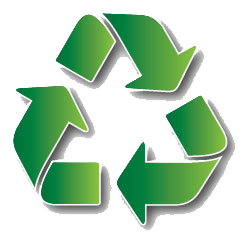 Plant investment
We invested in plant such as a timber crane, telehandler and large tractors to enabling us to extract large timbers from site whole which allows us to spend less time on site therefore less disruption.
Noise reduced
This helps to minimise the use of chainsaws on site so reduces noise and dust inconvenience, overall enabling us to provide a more professional and more efficient service for our clients.
Fully equipped workshop
With our fully equipped workshop and qualified engineers also adds to the efficiency and reliability of our services. Our equipment is well maintained and any breakdowns on site are swiftly addressed minimising any 'down time'.
Supporting other companies
We support other local arboricultural companies by offering workshop services, LOLER inspections and training courses such as arboricultural specific 1st aid and ROLO Health & Safety Awareness Course.